All About fredisalearns.com: Education for Children
fredisalearns.com is a site that helps to educate children using the power of animated cartoon videos, fun games, excellent worksheets, apps and more.
The lessons are built around the concept of an environmentally friendly town where our frogs live in perfect harmony with nature. Our characters live in tree houses which are hollowed out but never cut down. The Freddie's Ville mobil is a zero emission stroller-like car that is used for transportation around the town.
Main Characters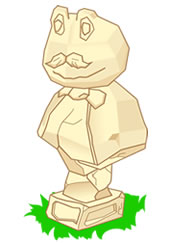 Dr. Freddie: In Freddie's Ville, you will always find the statue of Dr. Freddie, who was the scientist that created this town.  Dr. Freddie is the grandfather of our main character, Freddie.
The story goes that he was a doctor who got tired of living in polluted cities and decided to use his scientific background to design an environmentally friendly town where people looking for a break from polluted and noisy city life could move.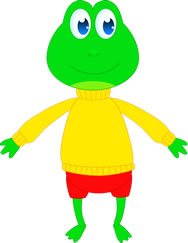 Freddie
is our main character and grandson of Dr. Freddie. He was aptly named after his grandfather, so as to continue the legacy of Dr. Freddie. Tradition dictates that a child in Freddie's Ville must be named after Dr. Freddie and groomed to carry on the legacy of the town. It starts with learning responsibility towards others. This explains why Freddie is given the enormous task of looking after his hyperactive little sister, Lisa, when Mom and Dad are not around. He has the difficult job of always taking Lisa to school  while responding to the several questions she often asks.
Freddie is a representation of all the big brothers and sisters who are given the enormous responsibility of looking after their younger siblings when Mom and Dad are away. Society does not give kids like Freddie enough credit. Throughout our lessons, you will find Freddie successfully keeping his little sister out of trouble and educating her in the process.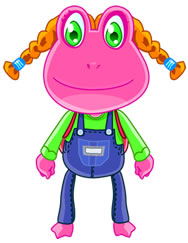 Lisa
is the hyperactive little sister of Freddie. Like every 4 year old trying to learn, she never stops asking questions. Through her many questions, Lisa provides us with the opportunity to teach and learn new knowledge. She learns from her many mistakes and naive questions. There is nothing wrong with her. She is just doing what most kids of her age do.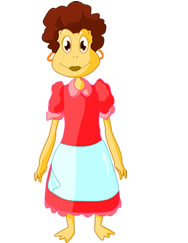 Mom
is a trained nurse but who has to stay at home and look after the kids. She readies them for school, takes them out for shopping and in the process creates new opportunities for learning. Sometimes she has to play mediator between two squabbling siblings. She is also Mom to all the other kids in the neighborhood. The other working parents can always feel safe to know that Mom is around when they are off to work. Mom's expertise as a nurse comes in handy when Bob and Sally lose consciousness after a fire accident.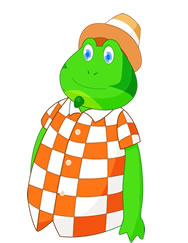 Dad
is a doctor by profession. He is the son of Dr. Freddie. Dad was so inspired by his father that he decided to train as a medical doctor. He works in the city but is happy to raise his children in the environmentally friendly town of Freddie's Ville, which his father designed. Dad will always be seen reading his newspaper. He occasionally contributes to the conversation to remind us of his presence. Dad sometimes adds valuable information when the children can't figure out something. A classic role of Dad can be seen in the Zoo Animals lesson for 3rd grade.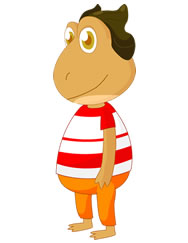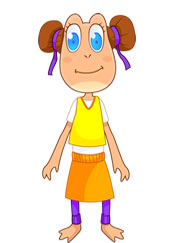 Bob
and
Sally
are friends with Freddie and Lisa. They are neighbors and classmates. While Freddie gets along very well with Bob, Lisa sees Sally as the big sister she never had. Sally has a calming effect on Lisa. These friends are of great help to Freddie who occasionally needs assistance, responding to Lisa's many questions.
Environment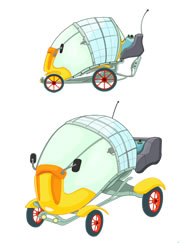 The Freddie's Ville Mobil
This is a zero emission car designed by Dr. Freddie and often used by Mom and Dad for getting around. Dr. Freddie's most famous invention is the Freddie's Ville Mobil.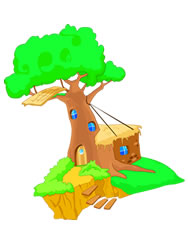 Tree Houses
The inhabitants of Freddie's Ville live in tree houses. The trunk and stumps of these trees are hollowed out without destroying the trees. The trees continue to grow while the occupants live in its shelter.  The tree is yet another genius of Dr. Freddie.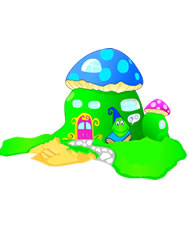 The School
School is a fun place in Freddie's Ville. The environment around the school is inspired by nature with mushroom-like classrooms.  There is some great learning taking place in this environment.
Please Note:
There is actually a town in the US called Freddie's Ville which we had never heard of until after we had created our product. When you search for our site on Google, results may come up with 'Freddie's Ville' in the US.  This has no relationship to ours whatsoever.