Games on fruit vocabulary. The page features crossword games, word search games, memory and sentence syntax games for young learners.
Fruits Vocabulary Crossword Puzzle Online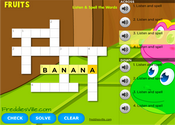 Practice listening and spelling of fruits vocabulary in English with this online crossword puzzle word game. Improve spelling and listening in one fun game.
Fruits Sentence Monkey Game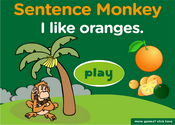 Practice using fruits vocabulary in English sentences. Have fun learning English!